IT today is very different from what it used to be a few years ago. Digitalization today has made consumers more powerful and transformed the expectations of enterprises from IT.
IT infrastructure services have now grown in importance. They are now expected to help businesses become agile, secure, service-oriented, and capable of delivering unified experiences to end customers.
CIPL's IT infrastructure management services have some of the most impressive credentials in the IT vendor landscape. We have not only executed complex global IT transformation exercises but also helped run efficient IT infrastructure services for some of the world's leading companies. We have consistently been recognized by leading independent analysts such as Gartner, Forrester, IDC, Everest, and others as a leader in core IT infrastructure management services. We have also won acclaim for our proven track record of successful, high-complexity delivery, customer satisfaction, and innovative solutions.
CIPL's IT infrastructure management services offer the experience, talent, and tools required to help you create, run, and manage next-generation IT infrastructure.

Services
With years of extensive experience, we uncover the true business impact through data-driven platforms and industry capabilities. We help users to improve their customer experiences by delivering topline growth. To streamline your workflows, we help you in envisioning new digital opportunities for strategic decision making and effective management planning.
Next Generation Network Services
We enable business transformation and strategic alignment of Next-gen enterprise networks, making them lean, agile, experience-centric, and outcome-based.
Cloud Native Services
Our host of cloud solutions ensures a seamless and efficient transition to the cloud.



Cyber Security & GRC Services
Our specialists integrate business intelligence, best practices, and regulatory systems to meet customer objectives.


Service Integration & Manag.
We design and build the right SIAM model using our accelerators while implementing and integrating multiple vendors.


Application Operations
We bridge the gap between the traditionally disparate application & Infrastructure environment to bring proactivity in IT operations.


Mainframes and IBM i (AS/400)
We help our customers maximize value and efficiently leverage resources through our mainframe services.


IT Infrastructure Management Services & Cloud Services
Managed IT service providers focus on reducing total cost of ownership, improving IT infrastructure performance and increasing flexibility, to keep up with evolving business needs.
With Cognoscente Invnted Infrastructure Management Services, gain returns on your IT investment, secure maximum business value, and cost-effectively manage your IT operations efficiently. As a preferred partner for outsourcing IT support requirements, we provide high quality, end-to-end IT infrastructure solutions.

With Cognoscente Invnted Cloud Services enable your enterprises to evolve their IT strategy and achieve greater business value through improved cost-savings and productivity. We help you evaluate your current infrastructure to create a roadmap for migrating to a cloud-based environment. Clients rely on us for our expertise in strategy, design, system migration, and implementation. We provide two key cloud based services for IT infrastructure which includes Cloud Enablement and Cloud Management. We provide organizations with flexibility and scalability of IT infrastructure by architecting and building Virtual Private Clouds (VPC) and management of VPCs and workloads across Public and Private Clouds.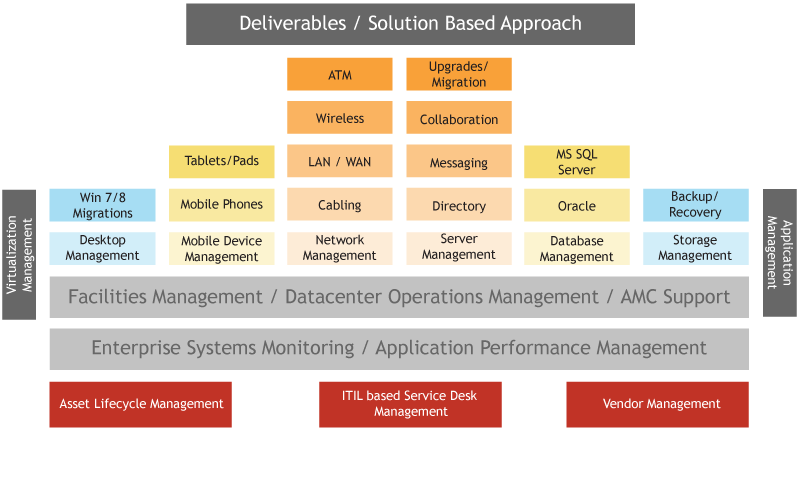 Giving IT infrastructure a digital upgrade
Digitalization is fundamentally changing how businesses operate and thrive. Automation and cloud technologies are no longer optional but are core components of any business transformation project. As businesses reinvent and transform themselves, only the enterprises that can compete via technology innovation, acceleration, and flexibility will survive. CIPL's digital-ready IT infrastructure is optimized to adapt to the unpredictable needs of enterprises for the digital age while simultaneously delivering business value and outcomes.